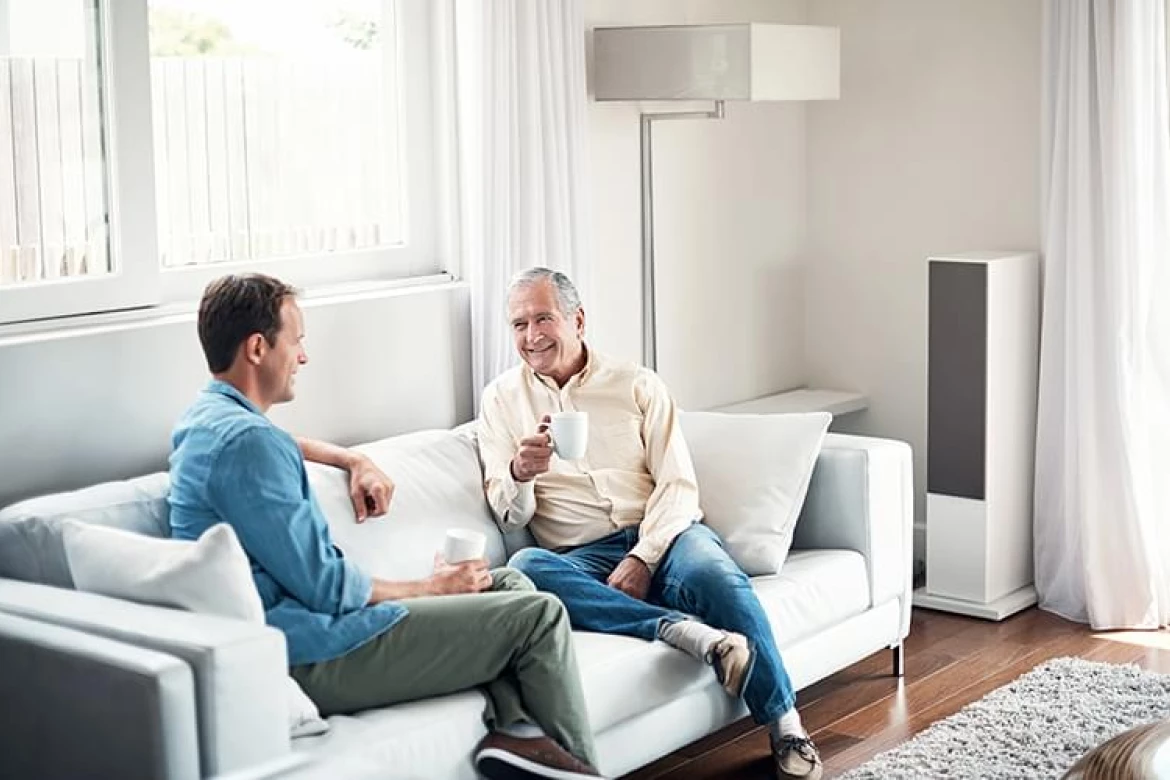 Talking to your Parents about Retirement Living
A Caring Conversation
We understand how emotional conversations about retirement living or life phases can be. Often, these talks are postponed until there is a crisis, a fall, a hospitalization, the loss of a spouse. Parents, of course, may feel defensive and worry over their loss of independence. Adult children feel awkward, too forceful, or distressed about intentions being misunderstood.
The goal is to have these conversations now in an open way, understand each other's perspectives and values, and secure mutual trust and respect.
Proactively Initiate the Conversation
Talk to and learn from friends or peers who have had discussions with their parents about future planning and retirement living options. If anyone has family members in a retirement residence, ask about their experience. What do they like, what don't they like? Gather with your parents in a proactive, relaxed, purposeful way so it doesn't lead to later confrontation. It might be helpful to entrust the initial conversation to the most trusted family member.
Truly understand their needs, budget, and situation. Investigate the options on the market that will potentially suit your parent(s), not yourself, and ensure they understand the benefits of independent retirement living as a way to bring solutions to the table.
Get Started with a Related Topic
As it's in everyone's interests to get organized, look to discuss where important documents are kept in case of an emergency – account numbers, passwords, lawyer's and doctor's information, and end of life preferences (i.e. cremation, burial, organ donation, etc.) Have they reviewed their wills recently and are any updates or changes in order? You'll also want to confirm who has power of attorney. There are kits on the market and at funeral homes that provide lists and templates. You don't have to wait until you are retirement age to organize a binder or file for yourself!
Observe and inquire if they are having house management issues such as roof leaks, difficulty keeping up with outdoor maintenance, or have been putting off de-cluttering basements and garages. Gauge their lifestyle and health issues, such as having outdated food or little food in the refrigerator, isolating at home alone, sadness or depression, declining driving ability, health or medication problems. If you have a positive story about a friend's parents who transitioned into retirement living, share the positive aspects of their experience and how it solved the growing issues they were having.
Be a Patient Partner & Not a Parent
Let them know you care and have concerns. That it's difficult for you to see them isolating, slowing down, being lonely, or feeling overwhelmed. Acknowledge the pride they have on managing their own lives themselves, but you want to help them make life easier.
Let them express themselves and recognize their fears about loss of independence, one of the most common hurdles. You may also have the opportunity to address misconceptions they might have about old "nursing home stereotypes." Rephrase where possible and bridge to discussions about the range of options – from independent retirement living to places with assisted living services/personal care services (The Edward is a blend of these two, not a nursing home, but we do offer support services).
Go slowly and always let them know you respect their wishes. Decisions about such major moves or changes usually take time, but are well worth the effort when an improved quality of life for our loved ones is the result.
Interested in learning more about The Edward's unmatched services, amenities and leasing opportunities?
Contact us today to arrange a chat with our Community Relations Coordinator.