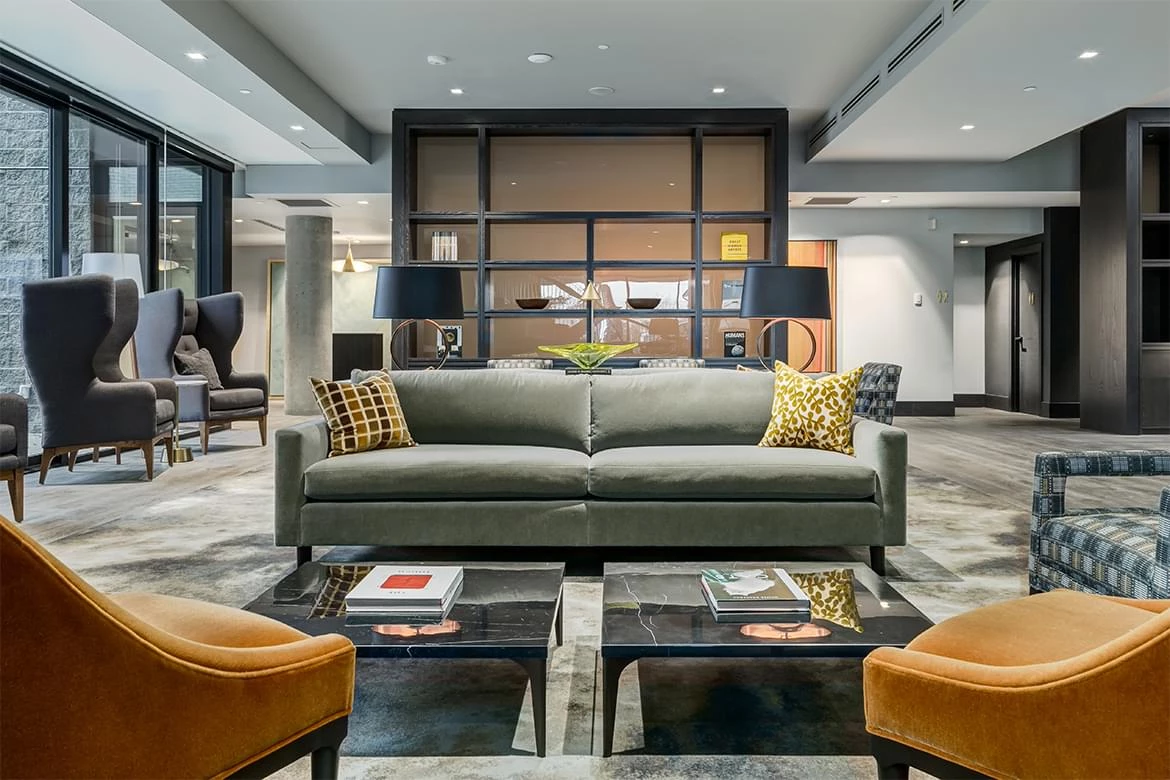 Your Questions, Answered
Curated Retirement Living Made Easy
Choosing a new home and lifestyle is a big decision – you are bound to have questions. Our team is here to help, so do not hesitate to contact us with your inquiry.
Questions About Your Residence
Is it expensive to live in a retirement residence?

Any home costs money; what sets The Edward apart is the value you'll get in return. Besides leaving behind property taxes, utilities and home maintenance costs, your lease includes five-star amenities and dining, plus personalized programs and services. It also means your hard-earned money will be spent on something even more valuable – peace-of-mind. Say goodbye to worries about safety and security; life here is carefree and focused instead on what makes you truly happy.

Can I bring my pet to live with me at The Edward?

Of course! Pets are welcome here! We know your animal companion means the world to you, and they can stay part of your family at The Edward too.

Can I still have guests stay overnight?

Absolutely. Guests are always welcome to stay with you in your suite, or you can easily reserve one of our lovely guest rooms for the night, pending suite availability.

Who will be my neighbours at The Edward?

Think of The Edward as a community made up of a wide array of people living their lives. You'll quickly find yourself surrounded by friends of a similar life stage and background. Residents of The Edward can live full, independent lives here, safe in the knowledge that our team is nearby if they ever do need assistance.
Questions About Your Lifestyle at The Edward
Will I like the dining experience at The Edward?

With a choice of three dining locations and countless healthy and delicious chef-crafted options for every meal, you'll never run out of choice at The Edward. Plus, you can dine on your own schedule and with whomever you choose, or even in the comfort of your suite. If you do feel like cooking, your European-style kitchen makes it a breeze.

Am I able to come and go as I please?

Here at the Edward, you can come and go as you please, and live the independent lifestyle you already enjoy. Venture out to explore Marda Loop, or visit family and friends; whatever you choose to do, you can get out there and do it. In fact, our luxury chauffeur-driven Bentley will get you there in style!

Will I still be able to host social events and parties?

Absolutely! The Edward helps you find ways to stay connected with the people you care about; have a get-together in your suite, invite guests to dinner in the private dining room, or reserve a social space for a private event.

Will I have to give up my independence?

Quite the opposite! The Edward values your freedom of choice – from meal times to programs, and entertainment to your personal wellness plan, you are firmly in control. We believe you should continue to experience life on your own terms.

What kind of lifestyle will I enjoy at The Edward?

Actually, for a lot of people moving to a retirement residence can actually have a rejuvenating effect, both physically and emotionally. The Edward offers countless opportunities to connect with others and to simply enjoy the good life. Joy is a way of life here.

Am I the right age to live at The Edward?

In truth, people often say they wish they'd made the move to a retirement residence long before they actually did. There's no need to put off your happiness – The Edward is here to help you live the life you want to live, today.