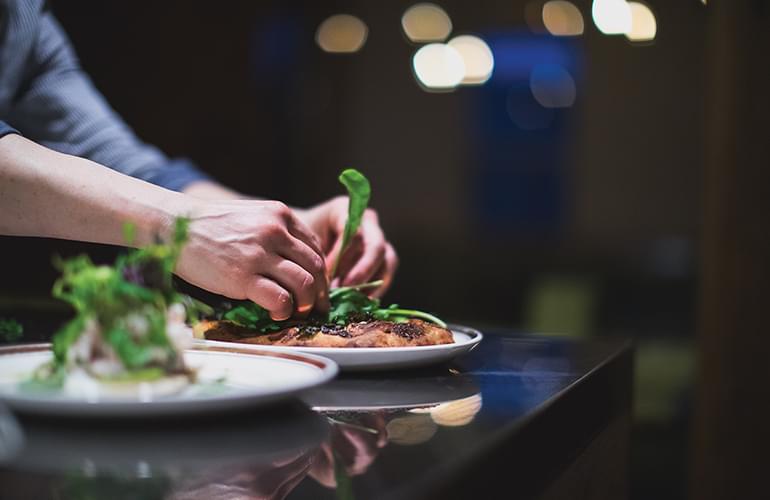 Gourmet on Your Schedule
Healthy & Deliciously Crafted Meals, at Your Service
Every meal at The Edward provides you with an array of culinary flavour and options; our every-changing menus provide new experiences and old favourites, prepared with care, using fresh ingredients, and always with an eye towards balanced nutrition.
Your Lifestyle, Your Schedule
Your daily life won't have to be managed around a set meal schedule; both the Marjorie Dining Room and Nest Bistro allow you to sit down for your meals when it's right for you.
Breakfast, lunch, and dinner times are generous so you can decide when and with whom you'd like to eat. Breakfast in The Nest Bistro runs from 8:00-10:00 am, with coffee and tea available throughout the day. Seated lunch with maître d' service in The Marjorie Dining Room also runs 12:00-2:00 pm, leaving you with countless options to fit your appetite and lifestyle.
Dinner service is another highlight in The Marjorie. You are seated at tables or banquettes for two or four, with the guests of your choice. Our maître d' will describe menu specials and bar selections, ensuring impeccable table service. Tables can be reserved, extended family invited, or the private dining room booked.
Explore Sample Menus
You Deserve a Delicious Retirement
Every meal at The Edward is a joy! The images below are just a taste of what you can expect here – click for an enlarged view, or meet our culinary team to learn more about the expert chefs crafting The Edward's amazing food.
Inspired Dining Options
Three distinct dining environments are at your service, and there is always the option of taking the Grab & Go Boxes to your suite, The Roof Top Gardens, out on the grounds, or for a day trip.
THE NEST BISTRO
Enjoy a casual breakfast or lunch in the fresh, sunny Nest Bistro. Come down for an enhanced self-serve Continental Breakfast or to pick up your Grab & Go Boxed Lunch to enjoy at your leisure.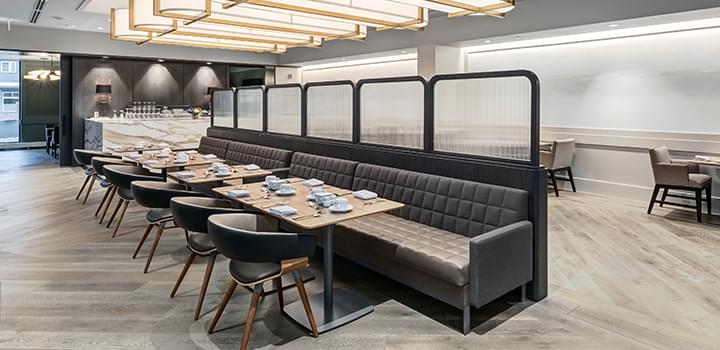 THE MARJORIE DINING ROOM
For full service restaurant-quality lunch and dinner, find yourself in the refinement of The Marjorie. Plush seating, ambient lighting, and truly delicious dining will be a highlight of your new Edward lifestyle.
PRIVATE DINING
For occasions when you'd like to organize something special or celebrate with friends and family, The Edward has a Private Dining Room that can be booked for birthdays, holidays, reunions, or simply an informal gathering with those you care about most.
Interested in learning more about The Edward's dining, lifestyle amenities and leasing opportunities? Contact us today to arrange a chat with our Leasing Specialist.