September 20th, 2023
The Edward Newsletter August 2023
As our loved ones age, they may require more care than we can provide ourselves. That's where senior living/retirement communities come in—to provide safe and comfortable environments where seniors can live their golden years with dignity and respect.
But just because they are in a care community doesn't mean we can't stay connected with them. In fact, it's important to consistently reach out to our loved ones in senior care communities to ensure they feel loved and supported.
Here are some reasons why reaching out is so important:
---
Open House - Sunday, September 24th, 1-4 PM
Stay tuned for information on our Open House on Sunday, September 24th at 1:00 PM! There will be refreshments, entertainment, and a chance to win a two-night all-inclusive stay at The Edward!

But if you're eager to come visit before then, book a tour with us any time.
---
Optima Living TV Episode 9 - Coming Soon!
Stay tuned for our next Optima Living TV Episode coming September 1st at 1:30 PST/2:30 MTN! In this episode, discover a holistic approach to healthy food, resident experience, and health education. Dr. Wagg will walk us through gut health and how it relates to nutrition.

Make sure you are subscribed to the channel for more great content like this, and learn more about Optima Living and our communities across Western Canada by visiting optimaliving.ca.
---
Optima Living in BC Takes in Evacuees
Optima Living would like to extend its gratitude to first responders fighting wildfires in Kelowna, BC. Our communities are lucky to be safe from the fires. Two of our locations did their part to help others: The Hamlets at Vernon took in 82 evacuees and The Hamlets at Penticton took in six from Osoyoos. We thank the teams at these Optima Living communities for their effort, and also thank the leaders we worked with to take in their residents.

Optima Living's BC Senior Director Melanie Reinhardt directed the effort, and even took evacuees into her own home. "Seeing the impact of the wildfires on the area has been a humbling experience. It was gratifying to be able to provide residents from other seniors communities with temporary homes," she said.

Our hearts go out to the people who have lost their homes to fire, and to the residents and families for whom this is a very stressful time.
---
Car Show - Sunday, August 27th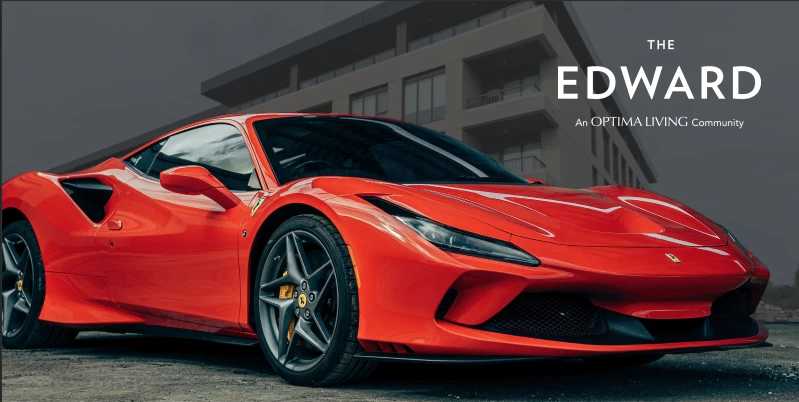 Write it in your calendar! Join us at The Edward for our car show on Sunday, August 27, from 1-4 PM. Enjoy accordion music by Howard Chapman and cuisine from a visiting food truck. We will be collecting for the Calgary Food Bank, so bring a donation. Bring your friends!
---
National Food Bank Day - Friday, September 1st
National Food Bank Day is September 1st! Don't forget—you can drop off a food bank donation any time between now and then.
---
The Edward has limited Independent Living suites available, ready for you to move in!
The Edward
3023 16 St SW 
Calgary, AB T2T 6Y4
403-265-3023
edwardliving.com
An Optima Living Community